ISBN 978-0-9941378-7-6
Fiction
Paperback, B Format with flaps, 280pp
Release July 2018
'I am driving up the Curran Street on-ramp and ahead of me Milk Bottle Man is dashing up the safety railing on the Harbour Bridge. He jumps onto the superstructure and runs up to the national flag. He is jumping from foot to foot and holding two figures in each hand – they must be the size of real people but look like toys because he is vastly inflated and up so high. Each swing of his giant arm, although it looks slow from a distance, would have enough force to dislodge the brains inside those skulls.'
Christel is at shattering point. She's got two small children, her job in reality television is super high stress, she's an activist with Women Against Surplus Plastic and now she's being stalked. To top it off her protest milk bottle sculpture appears to have come to life like the golem of Jewish folklore and is reviving characters from a past she can hardly bear to confront.
Christel is Second Generation – her father was a Holocaust survivor and a refugee to New Zealand after the war – and she cannot focus on the problems in front of her without dealing with an inheritance th​at is both​​ murky and unresolvable. And how to live with ​the secrets she begins to uncover?
Set in Auckland in the 1990s, The Sound of Breaking Glass is that rare thing – a book that crackles with end-of-millennium urban life ​while vib­rating with a history that's impossible to forget.
About the author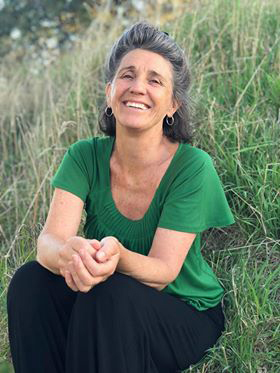 Kirsten Warner is a writer, journalist and musician. Her father, Günter Warner, who passed away in 2017 aged 95, was a refugee from Nazi Germany and survivor of the Holocaust. She was born in Hastings, and brought up in Tauranga and Auckland where she worked for newspapers and magazines and as a television researcher. She writes poetry and plays in a travelling folk-blues band.
Photo credit: Mary Parker