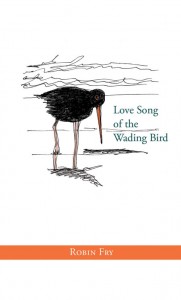 ISBN 978-0-9941069-3-3
Poetry collection
115x190mm, paperback, 54 pp
RRP $25
It's serendipitous that the word 'poet' is tucked inside 'Petone' – the Wellington harbourside suburb where Robin Fry lives. She's tied closely to both. There are oystercatchers and jellyfish at the end of her street, long-buried bones at her back door, and river stones nestling in her garden. And walking the stretch of beach from the Hutt River to Petone wharf, Robin sings a love song to the wild and wonderful place she lives, the family she loves and the music that fills her head. It's here that Robin's poems begin and end … and there's the whole world in between.
Robin Fry turned to poetry after a working life in theatre and broadcasting. She is a graduate of the Royal Academy of Dramatic Art in London and is known to Radio NZ National listeners as one of the voices of the long- running Sunday Supplement. Robin's twice won the open section of the New Zealand Poetry Society's International Competition. She delights in five grandchildren, and lives in Petone, Wellington, within sound of the sea.