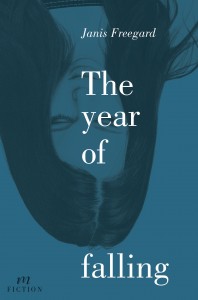 ISBN 978-0-9941065-7-5
May 2015
Adult novel
B format, paperback, 296pp
RRP $35
When the porcelain dolls start turning up on Selina's doorstep, she knows it's a bad sign. Shortly afterwards she embarks on an ill-judged affair with a celebrity TV chef. Both events, and the lies and untold truths at their heart, precipitate a spectacular fall from grace for high-flying graphic artist, Selina.
Enter Smith: the sister who saved Selina once before. But this time Smith's life is complicated by a small boy called Ragnar, and she's almost too late.
Janis Freegard's novel is a beguiling urban tale that moves from the hills of Brooklyn, Wellington, to the streets of Iceland via Tākaka. Packed with characters who hold the reader to the page, The year of falling has the strut and gleam of a fairytale while not being afraid of the stuff of flesh and blood that makes people act the way they do. A novel to fall into … but beware, you might find it hard to climb out again.
Will be enjoyed by followers of:
Contemporary NZ fiction
Fiction set in Wellington
Janis' poetry and blog
About the author
Janis Freegard lives in Vogeltown, Wellington, with an historian and a cat, and works in the public service. A winner of the BNZ Katherine Mansfield Award for fiction, she continued to write short stories and poetry, publishing with Auckland University Press and US publisher Anomalous. This year Janis launches her debut novel The year of falling on the same day as her poetry collection The Glass Rooster (AUP).
Reviews

"The crisp, crackly prose kicks things along. There are nice little leavenings of irony. Freegard controls a substantial cast adroitly, and makes you care about each one of them …" — David Hill, NZ Herald
Read the full review
"This is a story of searching for one's self, trying to identify and then hold onto the important things, and finding a place to call home whether it be a physical place, or simply in your own head and heart. There is hope, forgiveness, joy and love. It is a wonderful story, I very much enjoyed reading it. I really hope this book gets widely read and promoted, because it certainly deserves to." — Felicity Murray, Booksellers NZ Blog
Read the full review
"Richly peopled and companioned by an absorbing plot, Janis Freegard's The year of falling is a superb first foray into novel writing." — Siobhan Harvey, Stuff.co.nz
Read the full review