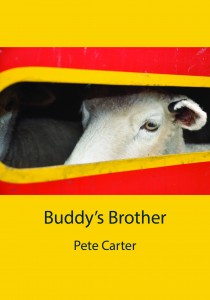 ISBN 978-0-9941299-0-1
October 2014
Poetry, prose and photographs
RRP $30
'I don't like poems I can't understand, and you won't find any riddles in mine' – so said the back cover of Pete's first collection, It's Your Dad, and he certainly started the way he means to go on. The poetry and prose in Buddy's Brother is straight-up, in your face, and open-hearted, and covers Pete's usual preoccupations: life and death, tennis and bad backs, dogs and walking.
This time he writes of a beautiful but gruelling walk along the South West Coast Path in Britain — a walkway that's as long as our North Island, and tells of cycling across India and down through New Zealand in a trip that eventually introduces him to his wife. As with his last book, Pete also spends time trying to get to grips with a dad, this time it's not his own but his wife's. He's called Colin, and he's Buddy's Brother.
About the author
Pete Carter is a writer, photographer and traveller who also manages a small art business. He published his first poetry/short prose collection It's Your Dad in 2013; has been longlisted for two flash fiction awards; is soon to publish a children's book in NZ, the UK and US called Our Dog Benji; and has just started a blog on www.petecarter.nz
Pete's photographs have appeared in several publications, and are in corporate collections. He has had two solo exhibitions and participated in group shows in New Zealand and the United States. He lives in Eastbourne with his wife, Jacs, and has two grown-up children and two dogs.
Praise for It's Your Dad: "A poignant collection, empathy-rich and sentiment-free. Thoughtful, reflective, humane." Clare Mulley