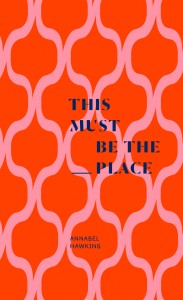 ISBN 978-0-9941172-5-0
Poetry collection
120x190mm, paperback, 58pp
RRP $30
The places in Annabel Hawkins' poems are close at hand or within sight of the horizon, at the
border between study and first jobs and whatever comes next, in a city that for now – for better or worse – is home.
She ticks off the places she finds herself: Thorndon Pool, Salamanca Road in Kelburn, the back roads of Ōtaki, Fiji. And from time to time longs to be elsewhere. But Annabel comes to realise that there's a time for going and a time for staying put, and home can also be a feeling.
This must be the place is a rich collaboration between two Wellington friends: Annabel who wrote the words, and her friend Alice who designed the place to put them.
About the author
Annabel Hawkins is based in Wellington, where she lives, leaves from, and returns to after her travels. She works in media and writes in all forms. While her talents know no bounds, her way with words often leaves others speechless.
About the designer
Alice Clifford lives in Wellington, travels frequently, and tutors design at Massey University. A member of the International Society of Typographic Designers and owner of a small library herself, words are at the forefront of her creative endeavours.
Reviews

"This must be the place is a book about the search for a home when the future is uncertain, the present is inadequate, and the past is clouded by nostalgia. It explores what it means to be at home, and how to find this 'place', but it also explores how the idea of home is a concept that is always developing. Home does not have to be concrete or stagnant; it can change with people and time." — Emma Shi, Booksellers NZ Blog
Read the full review
"These are potent works, which are full to the brim with the experiences of youth, the trauma of changing worlds, and the power of a notebook." — Jayne Mulligan, Salient
Read the full review
"What's so beautiful about this book of poetry is that it reads like a book – as unpretentious and charming as happily consuming a cup of instant in the morning and refusing all but a cup of v60 in the afternoon." — Sasha Borissenko, Massive
Read the full review
"The poems in This must be the place originally came from Hawkins's blog and although they have been carefully crafted for the page, a sense of immediacy remains, as well as a cohesion as the story continues from page to page." — Saradha Koirala, The Lumiere Reader
Read the full review